The other day I had a malware scare.
The problematic link was Blogarama and when I went to the site, there was a notice that the site had been hacked by someone and that it had been used to spread malware.
BIG THANKS to Elena who informed me about it, I deleted the link from my blog homepage, but after that I couldn't view my blogger homepage anymore nor leave comments on other people's blogs, either. When I tried to refresh the page, there was a notice saying that I should check my Firefox settings to find out if it had blocked the page.
At first I thought blogger was down, so I let it be, but yesterday after work when I tried logging in again, I still couldn't do it, so I asked R2 to check Firefox settings and he unblocked blogger. Phew! I was seriously starting to get depressed already, thinking I couldn't blog or leave any comments on other people's blogs, because blogging has been an important sanctuary to me, my link to sanity. :-D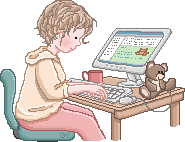 glitter-graphics.com
Anyway, update on MIL: she's started walking using two walking sticks, but her leg is still swollen and bruised. Not sure when she's coming back home, but maybe sometime next week, I suppose. We shall see. At least everything's gone well so far, even though she said this time it hurt more than the other operations (she'd had two similar operations in the past if I'm not mistaken). But they've given her pain killers to help her deal with the pain and the doctor has specifically told her to ask for the pain killer ASAP because if she lets the pain become too much before she asks for the pill, it's not going to help her 'coz the pain will get even stronger. Anyway, I'll probably go visit her again tomorrow after work.
Latest update on MIL: She just sent me an SMS, saying she'd go back home already on Monday. YAAAAAAAAAYYYY!!! Hope the rest of the recovery period goes well. :-D