When my parents were younger (perhaps in their early twenties, I don't remember exactly anymore), they changed their names into Indonesian names officially. So in their original birth certificates, both of them had Chinese names. I know that Dad chose his own first name and surname because he had told us about it a few times and his siblings also used the same surname. Not sure who picked Mom's Indonesian names, though, but Mom has an Indonesian first name, middle name, and surname.
After I was born, my Dad registered my birth and told the official the name he and my Mom had chosen for me, but for some weird reason they didn't put my Dad's (Indo) surname in my birth certificate. The same thing happened to my brother. We're not the only victims, though, because I know so many of my schoolmates and also my brother's schoolmates who don't have any surnames. Our parents did give us middle names, so the middle names stayed in our birth certificate, but some of my schoolmates whose parents didn't give any middle names had only their first names written in their birth certificate.




A funny thing happened when I first applied for a passport back in 2000. In order to apply for a passport, we had to submit our parents' papers, including their birth certificates. When I received my passport, I realized that they had put my Dad's (Indo) surname. Probably because in many other countries, surname is such an important thing.
I remember being called by Ms. (Dad's surname) at the airport in Singapore instead of being called Ms. Amel and I was surprised 'coz I had never used that surname before, so it sounded strange to me. FYI in Indo, normally they call people by their first names, though they'd add the word Mrs. or Mr. for older people or when you need to be polite. And in schools these days sometimes the single female teachers are called Ms. (First name) as well.
In Indonesia when a couple gets married, very rarely does anyone change their names officially so that they use their spouse's surname, although sometimes on some occasions the wife will be called as Mrs. X (for example) --- sometimes this happens when someone invites you to a wedding and on the envelope it'll be written: Mr. and Mrs. X.
Anyway, that's why when I moved to Finland with my residence permit, all my legal paperwork here has my Dad's surname on it, even though it's not written in my birth certificate. I did want to take R2's surname at some point, but it would be such a hassle 'coz then I'd have to change my bank card, ID card, passport, so I haven't done it (I know R2 doesn't mind, either).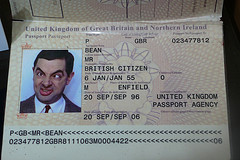 glitter-graphics.com
I once daydreamed about tracking my ancestors and being able to draw a huge family tree, though it would be very hard to do, because I'm not sure in the old days everything was recorded well enough in the registry office (case in point: my Mom's elder siblings don't know their exact birth dates 'coz my grandparents didn't register their births right away). Besides, my Dad's dad came to Indo from mainland China, whereas my Mom's dad came to Indo from Singapore (dunno if he originated from mainland China as well or if he was born there already), but both my grandmas were born in Indonesia already, though I have no idea about their own parents.
A few weeks ago I watched a TV show about Kim Cattrall's effort to track down her ancestors and it made me daydream of my own ancestors. Who were they? Where did they come from? I may not be able to find out anything about them, but at least I can daydream. :-D Maybe one of them was a sailor who loved adventures. Maybe another one was a kungfu master/mistress (after all, Mom's dad was a medicine man) ha ha ha hahhhhh...Maybe another one was a tofu maker hi hi...ahem...OK, enough daydreaming for now...
glitter-graphics.com