Today is my bro's birthday and it reminded me of birthday treats (esp. for those over 18 years old). In Indo, it's common for the birthday boy/girl to treat others on their special day. I remember that when I was at the uni (I had been tutoring kids in my spare time so I had some savings), I asked some of my close friends to go to Pizza Hut to eat together on my birthday. My treat.
FYI: For younger kids, it's common for the parents to pay for everything. I remember when I was in Junior High School (my allowance wasn't enough to treat my friends at a resto), I invited a few friends to our house and my Mom cooked all the food and ordered a cake and we just had fun eating and talking there. :-D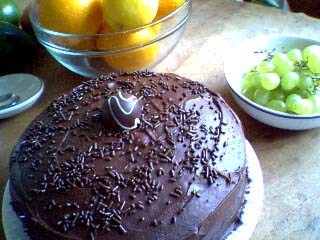 glitter-graphics.com
One close friend then moved to USA and she started working there. On her birthday, she brought a cake to her workplace. Her boss said to her, "Poor you! Why did you bring a cake on YOUR birthday? We're the ones who're supposed to treat you on your special day."
She was stunned. She had no idea that it's not common for people there to treat others on their birthdays. In fact, it's very common for your friends to chip in some money and pay for your dinner at your fave restaurant.
Another friend moved to USA, but he wants to keep the Indonesian birthday treat tradition, so the American friends were so happy to be treated by this guy on his last birthday ha ha ha ha ha ha ha...
What's the custom like in your country when it comes to birthday treats?
P.S. I'm not really big on birthdays. With my family, usually we just either dined out in a restaurant or ordered some food to eat together at home and we'd also order a cake from a deli. :-D Here in Finland oftentimes MIL buys me a cake and we'd eat it together. :-D