I'd like to light a virtual candle for a friend of mine who passed a way due to asthma a few days ago. She was a close friend of mine in elementary school, though after that we went our separate ways. It was really shocking to hear about her passing because I never knew she had asthma. Another friend in FB wrote about her passing and I was really shocked because it all happened so quickly. And I heard that she'd been preparing for her wedding this year. Can't imagine how the groom-to-be must feel...ugh...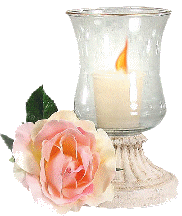 glitter-graphics.com
I remember that she and I used to write letters to each other when we got separated into different classrooms in fourth grade. Her aunt and my Mom used to pick us up from school, so we would ask them to give the letters back and forth. I don't remember anymore what we "talked about" in the letters, but I don't think this practice lasted very long.
In sixth grade we were finally in the same class again and we used to join in with another girl if there were any group tasks we had to do. Unfortunately we went to different schools after that, so we kinda lost contact with each other. We met again somewhere along the line, though the last time was probably a few years before I moved to Finland (so already a decade ago or so). A few years ago when I visited my hometown and organized a small gathering with my ex elementary school friends, she couldn't come because the date coincided with her brother's wedding and she had to help out, so she couldn't come. Just a few days prior to hearing about her passing, I was determined that the next time I visited Indo again, I just HAD to meet her. Well...not a chance now, unless after God calls me back home, too.
But anyway, rest in peace, dear Devianne...may the Lord comfort all the bereaved...
The LORD is close to the brokenhearted; he rescues those whose spirits are crushed. - Psalm 34:18