1. Me: "Am I good?"
Hubby: "Yep."
Me: "Am I bad?"
Hubby: "Yep."
Me: "So what am I then?"
Hubby: "Perfect."
Me: SUPER WIDE GRIN HEHEHEHEHEHEHEHEHHH...

(didn't expect him to say that at all, making it all the more sweet!)
2. Feeling like I am a very funny person when I'm with hubby. In the outside world, I don't feel that I'm this funny.
3. We watched Despicable Me 1 and 2 and then hubby said that Agnes reminded him of me in some ways HA HA HA HA HA HA HA...Now every time I do something that reminds us of Agnes, we both grin at each other LOL LOL!!!
4. Watching this beautiful performance. I can't believe the cyr wheel feels like the extension of her body. AMAZING!!!
5. Reading this article: Confronting The Lie: God Won't Give You More Than You Can Handle.
6. This beautiful quote:
At some of the darkest moments in my life, some people I thought of as friends deserted me - some because they cared about me and it hurt them to see me in pain; others because I reminded them of their own vulnerability, and that was more than they could handle. But real friends overcame their discomfort and came to sit with me. If they had not words to make me feel better, they sat in silence (much better than saying, "You'll get over it," or "It's not so bad; others have it worse") and I loved them for it.
- Harold Kushner, Living a Life that Matters
7. Finding these quotes:
Happy New Year, people! Wishing you all a year filled with all the things you need and some nice extra surprises along the way he he...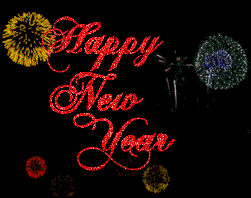 glitter-graphics.com