1. Playing "Poker Face" game with hubby while playing cards with MIL (it wasn't planned, just made up right then and there). The point of the game is to keep a poker face while the other party makes faces to make you smile or laugh. Dang it was SO hard to keep a poker face that we ended up laughing like crazy over and over again. SO MUCH FUN!!! :-D
2. A grandma gave me a bar of chocolate at work. BLESS HER! And it wasn't even the first time for her to do that. :-) I shared the chocolate with hubby at home he he he...

3. We've booked the tickets to go to Indo via Singapore on our summer holiday, so we're spending some days in Singapore as well in between flying to my hometown and flying back to Finland. And we've also booked the hotels in Singapore YAAAAAAAAAAAAAAAYYYY!!! :-D
4. I've contacted a few friends who live in Singapore and they've told me that they want to meet up, so I hope there's no hindrance for us to meet. EXCITING!!!!!!!! :-D
5. More feeling of freedom as I get less afraid of disappointing people when I feel that they have high expectations of me or when I feel that they expect something from me that I just can't give (something I just realized lately).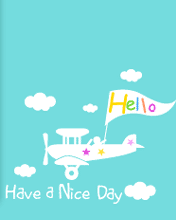 glitter-graphics.com
6. The sidewalk is now clear of sand and gravel. That means I can ride my bike at full speed again WOOOOHOOOOOOOOOOOOOOO!!!!
7. Having lovely and fun coworkers who treat me (the only expat in the group) like one of them. I hope we can work together for a LOOOONNNGGG time. :-D
8. Listening to this soothing and comforting song. Death is not the end. We will meet again in heaven...
9. Laughing so much at these photos ha ha ha ha...I'm trying to imagine the amount of time and effort it took to match the characters with the cats ha ha ha...As a cat lover and a fan of Game of Thrones, I think whoever it is has done a great job at it. :-D