I believe in the power of prayers. Even though we may not get the answer we want, prayers do have the power to change us. It's like the moment one's soul is connected to God, despite the storms around the physical self, suddenly the soul is surrounded by this supernatural halo that enables one to feel peace beyond understanding. Imagine the invisible protective shield covering a spaceship in sci-fi movies. Just like that. Except that the protective shield is an impenetrable one. Not even your worst enemy can break it down, because it's God's. Imagine the soul coming out of the body and then an angel comes out to embrace it, to protect you. Like feeling God's embrace and then hear Him say, "Trust me. I know what I'm doing. I understand your pain."
And even though your physical self can still be battered and bruised from all the storms around you and even though the situation may not change just yet, when the soul comes back and rejoin the physical self, you begin to see things anew. It's like you're given a new set of lenses or glasses in which to see the world. And that's when the miracle begins.
Not by your might, but by God's might. And all for His glory.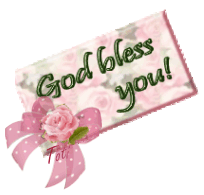 glitter-graphics.com