Last Saturday we moved the clock one hour back, so we got a blissful one hour extra to sleep in he he he he he he...Yesterday it was horrible weather because the temperature had gone up above 0'C the whole day and night, so the snow was melting away so fast and it was so wet and yucky everywhere (like walking on slushy ice). Thankfully I had bought a pair of long-legged boots perfect for this type of weather, so I walked to work.
When I arrived at work, a coworker asked me, "What time does your shift start?"
I replied, "Three."
She said, "Then why are you here already?"
I replied, "Come again?"
She said, "It's only two."
I checked my wristwatch and realized that I hadn't moved it an hour back. ARRRGGGHHHHH!!!! Well, at least I wasn't late HA HA HA HA HA...This reminds me that I have to be more careful in spring when we have to move the clock one hour ahead - otherwise I may be late to work!!! The reason why I was more focused on my wristwatch instead of my clock or mobile phone clock was that I had set my wristwatch a few minutes ahead of time to make sure that I would never be late to work he he...Oh well, lesson learned! This was actually the second time I was ever too early to work (thank GOD I've never been late, though!). The first time it happened about a year or two ago, I had remembered the wrong time for the start of my shift he he...
Anyway, can't wait for the next batch of snow to cover up the ground again (hopefully this time they stay and they won't melt until spring!!!).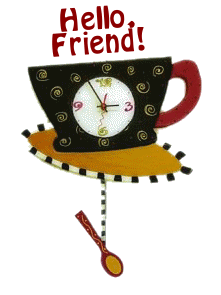 glitter-graphics.com