The other night we were getting ready for bed. It had been another hot day. 30'C. We turned on the air conditioner about two and a half hours before our bedtime to make sure the room was cool enough to sleep in. Just as I was getting ready to lie down, sounds came out of hubby who was already lying down on his own spot on the right side of the bed.
PROOOOOOTTTT.
Great.
A few minutes later: another PROOOOOOTTTTTT.
We did our usual bedtime ritual and then came another PROOOOOOOTTTTT.
So I said to him, "I'm going to give you a new nickname. You're my BFF. Big Fart Factory."
He replied casually with his usual calmness, "Oh yeah?"
And then a few seconds later I went PROOT. :-D
So he said, "Okay, then you're LFF. Little Fart Factory."
I replied, "Fair enough."
:-D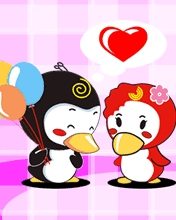 glitter-graphics.com