I've been taking sabbatical by going into my Introvert Cave. I desperately need it every now and then, because sometimes I feel like my cup is overflowing with too many thoughts, ideas, information that it just refuses to take anymore and before I reach the burnout point, I need to take a step back and just be. I believe that there's only so much a brain can take at a given point in time, there's only so much one can give at a period of time before the brain and the heart need to take some time off.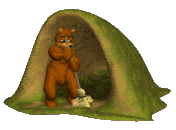 glitter-graphics.com
The Introvert Cave is one of my fave dwelling places. I can read things I'm interested in reading, but I can also stay away from things that I don't want to read (like visiting FB where inadvertently I'll be reading random thoughts and info about other people's lives randomly). Enough is enough. Self-care is important as well. I also listen to a lot of music during this time, as well as instrumental music.
During my Introvert Cave period, I always feel lighter. It's like taking a short break in nature without having to interact with other people too much. I think the benefit of staying in the Introvert Cave every now and then is like an excellent full-body massage - the difference is that the benefit is felt by the mind and soul instead of the body. But hey, if it's good for the mind and soul, wouldn't it also benefit the body? :-D
Yeah, yeah, I know I'm rambling here. I didn't exactly prepare this post, so I was just typing whatever came to my mind. :-D Ahem. Anyway, I saw this quote a while ago in FB.
I was wondering why I couldn't choose number 1 AND 3. I know that it only works if the thing that you let define you makes you feel that you have a cause to work for. It wouldn't work if the thing that you let define you makes you feel like a victim, but I think it can work if the thing that you let define you makes you feel like a survivor and then you let it strengthen you.
Case in point: in the beginning, I felt like a victim of infertility and I was so angry in so many ways, but these days I feel like a survivor that enjoys sharing infertility links to many people in order to spread awareness. I think many people have survived this way through bad things: to find a cause or something that they feel can be of use to other people after they've experienced a tragedy.
What do you think, readers?