1. How I've found

wonderful human beings

through the internet and the blogosphere to share my ups and downs, to support and encourage and understand me. I would never have made it without all of you people.

2. When I've been whiny and annoying (even in my own ears/mind), yet hubby still tells me,

"I love you anyway, honey."

That is one of the most beautiful things I've ever heard in my life.

3. Watching

autumn colours

, especially the red colour (my fave autumn colour) surrounding me...and noticing a squirrel running about cautiously in our yard.




4.

Hubby

let me eat

the last cup

of chocolate pudding. (FYI: I bought 4 cups and ate 2 cups, but when the last cup was still in the fridge, I asked hubby if he wanted it or not and he said, "Nah, you can have it 'coz you like it so much.")

5. Getting a

permanent part-time job contract

means that I had some

spare money

to buy some things for my in-laws - I bought FIL a warm jacket (with fleece lining inside) and a pair of warm socks for MIL when I visited them the other day and they were happy to get them. ;-D

6. Meeting

new foreigners

in this small village on my Finnish course and laughing with them when we talked about different topics. In a small village where foreigners are rare, it's always a

PLEASURE

to meet fellow "comrades-in-arms".

7. Looking back over the past and realizing that

God's closed doors led me to this job

. If there hadn't been those closed doors, I wouldn't have ended up here.

THANK GOD

for His closed doors, even though at that time I felt sad and dejected (esp. when I couldn't continue at the daycare) and I didn't understand why they were there.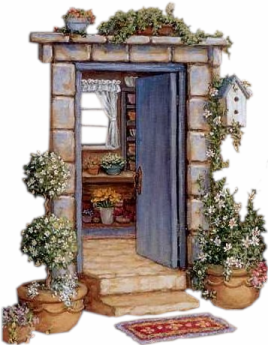 glitter-graphics.com



8. Having a

hubby

who knows how to do coining (scraping my back with a coin and some balm). It's

VERY VERY beneficial

for me 'coz I do need his help sometimes in this area.

9.

Living in a small village

where there's no traffic jam, less noise, no long queues at the supermarkets/stores, where I can be close to nature.

10. Meeting

friendly, warm, patient customers

. They're the highlight of my day at work.