Last night I was reading a Finnish blog that told stories about troublesome customers and I was reminded of an occasion with an older guy. He's one of our regular customers and he's a very friendly guy, but he's very keen on checking everything up on his receipt. For example, a few times he came by to buy a few of that day's offers, but he took the wrong ones. Right after he packed things up, he always went to the side to check the receipt. A few times he took the wrong products and he opted to return them and then he'd ask the cashier to go get him the right products (that were on offer that day).
One time, though, I was at the cashier and he bought some products and then went to the side, took out his mobile phone and started counting. I was serving other customers, but I could see what he was doing from the corner of my eyes. After a while, he came back towards me and said, "Hey, the computer counted wrongly! Look at the receipt! The machine counted wrongly!"
I was busy serving other customers, so I asked him to wait and I pressed the buzzer to call my coworker to help out. While waiting, he kept on saying, "I recounted each item with my mobile phone and the sum I got wasn't the same." I was a bit annoyed by then because this time it wasn't about getting the wrong products or anything like that. I just couldn't imagine how the computer could have counted wrongly.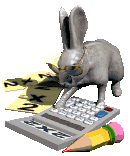 glitter-graphics.com
Anyway, my coworker came over and I explained the situation in brief to her and she went to the side with him after grabbing a calculator. At lightning speed she inputted each price and she said, "The sum is correct. See?" She shoved the calculator in front of him to show the total sum.
Confused, he still insisted by saying, "But I counted them using my own mobile phone's calculator and I came up with a different sum!"
So my coworker gave him the calculator and told him to input each price all over again while both of them checked/said out loud the price of each item. After checking everything this way in a much slower fashion, he was finally satisfied. He said, "Oh, I guess I must have done something wrong." For all it's worth, though, he did say thank you to the both of us after all the hassle, but still nobody else had done this kind of thing before and after him and I must say that I haven't really met any troublemakers or customers that say harsh words (swear words) to me like what I read in the Finnish blog.

There was one funny story told in the Finnish blog. There was this old man going to a supermarket and this fellow was working there. The old man asked him if they had a certain brand of
toilet paper rolls
(actually the old man asked for some
ass wipes
!).
The fellow told him that they had other brands, but the old man got angry and shouted, "I
DO NOT WANT
this and that brand for my ass!!!! I want the brand I mentioned 'coz it's very soft! That's
THE BEST
kind of ass wipe I'd ever use for myself!!!! How dare you tell me that I should use other brands of paper to wipe my ass!!! This store is no good! At least I can get those beloved ass wipes from another store!"
Oh dear goodness!!!!!!