I don't mean tired physically, but mentally and by mentally, I mean the kind of fatigue related to the online world. Sometimes with all the many things going on in this online world, such as Facebook, twitter, blogging, Yahoo Messenger, emails, and whatever else you're using to "be connected" to the world, I find myself wanting to shut everything down every now and then and just be in this present moment, be DISCONNECTED to everything else and everyone else except those in the present moment. This is one reason I LOVE going to the cabin in Kelujärvi 'coz there's no electricity there, so we can really disconnect.
I don't know if it's because I'm basically introverted or what, but that's how I've been feeling lately. Sometimes I'm confused whether or not I should comment on something, you know? Especially if the person's on my friends' list. Let's say that you see someone on your friends' list having a birthday today. You don't really know that person, so do you say happy birthday or not? Is it OK if you just say it "because it's the right thing to do", not because you actually care about that person's birthday because without the reminder in your social calendar, you won't even know/remember it?
I know that it's fine even if I don't comment, but sometimes once you've read something and you don't comment on it, you feel like you've dropped by into someone's personal space without even saying "hi" (though the person doesn't necessarily even know that I've dropped by into his/her personal space). Is it just me or do you sometimes feel that way, too? Boy, that sentence sounded like being a stalker, actually ha ha...Or am I just thinking too much?
It feels sometimes as though the "rules of engagement" is really vague in this online world and that it's really tough to learn to limit yourself. I wonder how youngsters these days manage to handle both real world and online world, because many of them have been born surrounded with the internet and gadgets that help you connect to the world 24/7. Some articles have stated that one of the problems for kids nowadays is the lack of ability to focus. I'm getting to understand why. It's so easy to get distracted when reading an ebook using my PC for example when suddenly I can see an email notification coming up or an FB notification popping in my screen. Then I get tempted to stop reading to check the email/FB/whatever else is
going on.
It's easier to focus reading a real book without being in front of the computer, but while reading Finnish books, it's much easier to use online dictionaries to find tough words so that I can read the book(s) faster. Anyhow, I should go back to reading ebooks now he he...before my holiday is over!!! Now let me just go get some hot tea first 'coz it's only 8'C outside!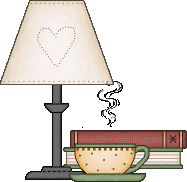 glitter-graphics.com