1. I almost dropped a doughnut while taking it out of the bag. R2 and I were sitting in the kitchen at that time, about to drink coffee. I saw R2 smiling after I almost dropped the doughnut.
Me: "Hey, don't smile 'coz I almost dropped the doughnut!"
R2: "I'm not smiling 'coz of that. I'm smiling 'coz I'm happy. After all, I have you!"
Me: (awwwwwwing inside) "Unfair! That's an unexpected response!"
(smile)

2. Made some
banana-chocolate pastries
for my coworkers which became a hit (and I could share with them how easy to make it, too). Glad to know they liked 'em! :-D
Recipe: a box of frozen pastry (mine has 5 sheets of frozen pastries), some bananas, and some chocolate. Let the frozen pastry out in warm temperature until it's soft, then cut them into thin strips (around 2.5 cm wide) then cut a banana in half. Wrap the half banana with the pastry strip diagonally until it's all covered. Do it until you're out of pastry and bananas. Bake them in the oven until they're golden brown. Let them cool off for a while. Then melt some chocolate (I prefer dark chocolate around 200 grams) with a little butter and smear it on top of the pastries. All done! :-D Result: 10 banana-chocolate pastries.
3. A customer saying nice stuff to me that made my eyes wet.
BLESS YOU
, each and every single one of you! I'm
REALLY
blessed by your words!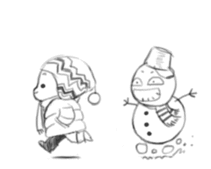 glitter-graphics.com
4.
Talking to Mom on Skype
after she got back from Taiwan with her friend. Glad to know she had fun and that she only felt a little unwell once during a bus trip but after taking some anti motion sickness pill, she felt much better.
5. The very slow
translating project
I'm doing for a customer is
nearing its end
. Only about 20 pages left, though I still have the big task of editing my translation, but it's always nice to know that a project is almost ending. :-D It feels like almost completing a marathon (not that I've ever been in one, though).
6. Being able to enjoy
Winter Wonderland
scenery this month already. Even though the snow has mostly melted now, but it was such a treat!
7. Start listening to
Christmas songs
already....
HO HO HO HO HOOOHHHH...