A few days ago I had an evening shift and I stayed up late. R2 had to go to sleep right away after I came home from work 'coz he had to go to Rovaniemi the next day. He had to be there already at 8 am (it takes about 1,5 hours to go there by car). I was having too much fun reading a manga series so I just didn't want to stop until the end. When I realized the time, I decided to sleep on the sofa instead 'coz I didn't want to wake R2 up.
However, this time I left him a post-it note, hoping that the journey would go fine and that I wanted him to hug and squeeze me before he left HE HE HE HE HE HE HE...

Otherwise he wouldn't have done it 'coz he wouldn't have wanted to wake me up he he...



I woke up twice due to coughing (yeah, there's still some phlegm left, can you believe it?) but then I got right back to sleep. The second time I woke up was when R2 had woken up himself and not long after that he did come to where I was lying down and what delighted me so much was the way he squeezed me (not just once but a few times!). It was as though we hadn't done it in a VERY LONG TIME he he he he...As if he hadn't wanted to be apart from me he he...
Ahhhhhh...BLISS!!!!!!!!!! :-D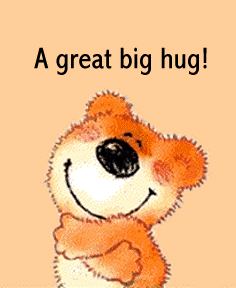 glitter-graphics.com
P.S. Our wedding anniversary is coming up and usually we spend it in the cabin (either the weekend before or after the date), so we'll see if we can do it or not. I have to make sure R2 isn't on call that weekend. :-D And then I have to make sure that I'll have the full weekend off. :-D But anyway, I can't believe it's going to be our 6th anniversary already!!!!!!!! I really want to keep growing and growing old with him he he he he...