1. A grandma gave me a bar of chocolate (again). She's just SO sweet and thoughtful! :-D THANK YOUUUU!!!!! And yes, the graphic below described my facial expression very well upon receiving the chocolate bar LOL!!!

2. Another grandma told me that her hubby had been
missing
me at work 'coz he hadn't seen me in a long time. (Unfortunately I don't know which one her hubby is 'coz I meet too many customers at work each shift, but that means the only thing I can do to make sure that I treat him well is to treat everybody well.) I'm touched!!!
3. Me: "Hey, I've just recently noticed that my buttocks aren't as supple as they were before. Have you noticed, too?"
Hubby smiled wickedly and nodded.
Me: "
WHAAAAATTT??????
Are you pulling my leg or have you really noticed the difference?"
Hubby: "Yeah, I've noticed."
Me: "When did you realize that they'd changed?"
Hubby: "Ages ago:"
Me: "
WWWHHHHAATTTT????
" (short pause) "But you still love them anyway, right?"
Hubby: (nod) "Yep."
Me: (smile) "Good."

4. Taking a
holiday from FB
has done
WONDERS
to my brain. I feel like it's been unblocked and now it can breathe freely again. Phew!!!
5.
Sauna scent.
I love adding some scent (we've mostly used birch or eucalyptus) to the bucket of water we keep in sauna. It's like aromatherapy! Heavenly!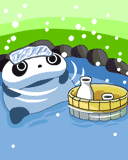 6. Learning to be
more assertive
at work when needed. It ain't easy but I'll celebrate each little step forward that I make! :-D