There's magic in the air when someone blurts out something so funny and so unpredictable that just tickles the very core of you. The tickle comes from deep within and in a split second you just burst out in an unbridled wave of laughter followed by another wave and another wave and another wave. It's the kind of series of laughter that border on hysterical. And it's even more magical when you do all of that while lying on top of someone you love, someone you've vowed to love until death do you part.
There's magic in the air when you can hold that person in your arms and hear his heartbeats. To feel his warmth as he holds you back with all the fondness that he can muster. To feel a tad of exasperation when he imitates your facial expressions and uses your own words as weapons to tease you. And yet instead you can't help but giggle along with him until your cheeks get sore.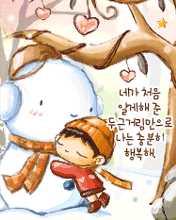 glitter-graphics.com
There's magic in the air in the familiar scent, posture, facial expressions, and antics of your heart's desire, enticing you to miss him more the longer you live with him. And even though sometimes he drives you mad, he makes you laugh so much and so easily that it's almost impossible for you to get really angry at him.
There's magic in the air in knowing that you belong, that you're accepted the way you are, that your whole self is very dear to someone. That even though you do drive him mad at times, he is willing to forgive you without ever bringing up your mistakes.
There's magic in the air when you realize that you're still given today to enjoy together with him. That you're still given an opportunity to embrace the present and feel all the magic floating in the air...