Pride. That word scares me, because there's a VEEERRRYYY thin line between "feeling good about one's achievement" and "arrogance". Pride scares me because I don't want to feel the "arrogant" kind of pride. A few years ago I found this quote that sums up what I want to feel about my "achievements". The quote says:
Don't take pride, take pleasure.
Unfortunately I don't remember where I found it so I can't link it, but that quote really hit me deeply because I DO want and I CAN feel pleasure in my achievements. I DO want and I CAN feel joy when I've knocked down a challenge (jumping for joy like in the image below), but I want to stay away from the kind of pride that says that it's all about ME, MYSELF, and MY ABILITY. The kind of pride that wants me to SHOW OFF to others (as if punching your own chest proudly) that I AM able, capable, talented, etc.
And I've been guilty of this kind of pride. This kind of pride doesn't even have to be shown verbally (meaning nobody may even know about it). It's what's inside my heart that tells me whether what I feel is simply pleasure/joy or the arrogant kind of pride. That's why I'm wary about distinguishing the two.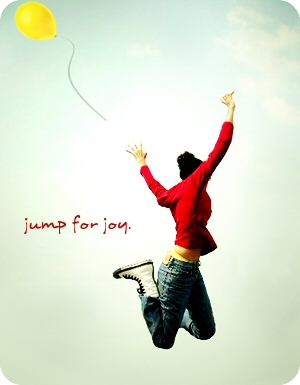 glitter-graphics.com
Pride scares me because there are too many "ugly" kinds of pride. Too proud to say sorry. Too proud to admit a mistake. Too proud to accept help. You name it!
My closest friends and I were discussing pride in our email exchange the other day and I find my answers from C.S. Lewis' "Mere Christianity". Let me just copy and paste the important parts:
Pleasure in being praised is not Pride.... The trouble begins when you pass from thinking, 'I have pleased him; all is well,' to thinking, 'What a fine person I must be to have done it.' The more you delight in yourself and the less you delight in the praise, the worse you are becoming. When you delight wholly in yourself and do not care about the praise at all, you have reached the bottom. That is why vanity, though it is the sort of Pride which shows most on the surface, is really the least bad and most pardonable sort.....
Do not imagine that if you meet a really humble man he will be what most people call 'humble' nowadays: he will not be a sort of greasy, smarmy person, who is always telling you that, of course, he is nobody. Probably, all you will think about him is that he seemed a cheerful, intelligent chap who took a real interest in what you said to him. If you do dislike him it will be because you feel a little envious of anyone who seems to enjoy life so easily. He will not be thinking about humility: he will not be thinking about himself at all.
One of my close friends also gave me this quote taken from a mutual friend's FB status:
Humility is acknowledging our total dependence upon God and seeking His will for every decision. When people disagree with me, do I listen from my heart or argue my position? In my spirit, do I tend to cut off those who ignore me? Do I find it extremely difficult to admit when I am wrong? Do I give my opinions before I am asked for them? Am I quick to correct others when they make mistakes? (ARS session 2)
So, the quote I found years ago was really the best kind of way for me and may heaven help me in the process!!!

"There is nothing noble in being superior to your fellow man;
true nobility is being superior to your former self."