Since it's so easy to complain, why don't we all try to stop ourselves before we can even utter some complaints, shall we?

I understand that it might be hard to do when you REALLY have good, solid reasons to complain, but if they're just "simple" matters, then we CAN and SHOULD stop ourselves from complaining, don't you think so?


NO COMPLAINING!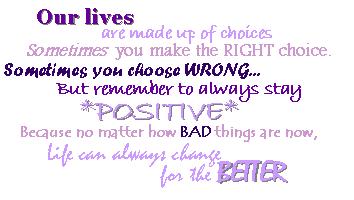 glitter-graphics.com

Constant complaint is the poorest sort of pay for all the comforts we enjoy.
- Benjamin Franklin
I felt sorry for myself because I had no shoes, until I met a man who had no feet.
- Jewish proverb

It is better to light one small candle than to curse the darkness.
- Confucius



If I were to say, God, why me? about the bad things, then I should have said, God, why me? about the good things that happened in my life.
- Arthur Ashe
May your starting week be filled with joy, peace, and contentedness!!!