Before I write my usual 3BT post, I'd like to write about a sad event. My friend's baby was

born dead

and I just can't fathom the depth of sadness he must've been feeling right now...he had grown to love the baby even before he was born (the baby was a boy) and then he died.

So

REST IN PEACE

, little one!!! You're with the angels now...safe and sound. May the angels comfort your Mom and Dad, little one...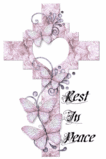 1. I heard one of the most

BEAUTIFUL

things I'd been waiting for a long time when I spoke to Mom on Skype the other day. My father's stopped having "angry management issues" ever since Ken was born. He keeps on saying that Ken brings him joy and happiness.

THANK GOD!!!!!!!!!!!!!!
I was already at my wits' end trying to find out what ways we could do to help my Dad control his bursts of anger...the answer came in the form of a baby. :-))))
2.

My presentation

went well. ---> Of course I had to read my .pps files since I couldn't remember all the long Finnish texts, but still I thought I had prepared it well enough. :-))))
3. Receiving

positive feedback

about my presentation. It feels like I'm a character in a computer game and today I received a "Level Up". :-D
4. R2 washed the

dishes

without being asked. :-D
5. Getting my

new snow shoes

. I hope we can go downhill skiing again tomorrow. :-D
6.

Talking to my Mom

. I know I'm repeating myself in my 3BT posts, but I just want to cherish her as much as I can. She's truly something!!! I

LOVE

the way she supports me and the way she doesn't pressure me. I

LOVE

the way she understands my situation. She even said that I shouldn't send her SMS too often if I were too busy ('coz she knows I'm doing the training and the Finnish classes now). Whenever I think of her, I think of a safety blanket, warm and comforting. Mmmm...
7.

Excitement

to see my other project in its finished form. I'm going to share it with you later when it's done. :-D