Today's been an

INCREDIBLE

day for me HO HO HO HO HO HO HO HO...

1. I received

a mysterious package

from

Michelle Frost

from Scotland (Crow's Feet). She not only sent me birthday gifts, but also Christmas gifts. Being the good girl that I am sometimes (ahem!), I'm gonna wait till X-mas before I open the X-mas gifts he he he he...

Anyhow, just wanna say to her:



THANK YOU SO MUCH for the SURPRISE!!!
IT WAS LOVELY!!! ;-D





2. One colleague asked me how old I was and then she said, "Oh, my, you
look younger
than your real age!" HO HO HO HO HO HO...Having just turned 30 years old the other day, "my nose grew big" after hearing such a response HA HA HA HA...
In Indonesian language, if a person is given a compliment and then she or he feels proud of himself, we say "his or her nose grows bigger" LOL LOL LOL!!!
3. This evening I received
EXTREMELY good news
from hubby that we can PAY OFF our debt to the bank tomorrow HO HO HO HO HO HO...Remember that last year we bought off R2's eldest brother's second-hand car by loaning money from the bank? We've been paying it off bit by bit every month but as you know, we still have a LONG way to go...but now we can pay it off HO HO HO HO HO...
It's a MIRACLE!!!!!!!!!!!! ;-D
So my heart is filled with
JOY JOY JOY
today. WOOOOOOOOOOHHHHOOOOOOOOOOO!!!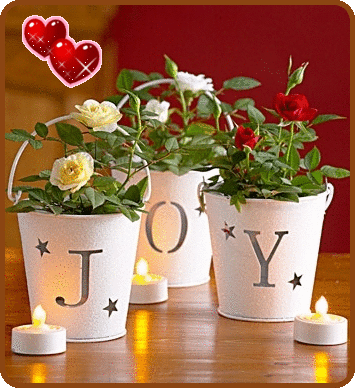 glitter-graphics.com