Because in Indo language there're no separate words for

"he"

and

"she"

, just like in Finnish, after living here for about 3 years, I've started mixing up the use of "he" and "she" in the English language. I guess it's normal in a way 'coz in this case Finnish has the same usage of "he/she" like Indonesian language.

Another problem I've encountered is that it seems there are

two separate parts (or compartments?) of my brain

-

the Finnish part

and

the English part

. For example: whenever I work in a Finnish environment, I always try to use my Finnish brain. Meaning I need to focus on understanding Finnish and then using Finnish as a reply - i.e. using my Finnish brain. So, when sometimes foreign tourists come, I have trouble switching to my English brain. One time when I was trying to tell the tourist how much he/she had to pay, I mixed up the words, so I used both Finnish AND English (I said the first number in English and then the second one in Finnish).

ARRRGGGH!!!

How annoying is that?

I think it occurs more often now 'coz in my daily life I use my Finnish brain more often than my English brain. Even at home with R2 I try to use both English and Finnish - though sometimes when I panic about losing my English ability, I use more English than Finnish, but then the dilemma is that if I use more English than Finnish, then I feel that I'm not using fully the resources that I have on hand (I mean his being a native Finnish speaker).

ARRRRRRRGGGHHH!!!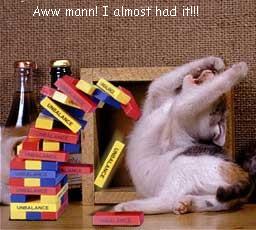 glitter-graphics.com





Side note:

I remember one time when I was doing the training at the hotel, the boss came over and said something in English and 'coz I was using my Finnish brain and I was trying to think of what kind of Finnish words she was saying, it took me at least 5 seconds before I finally realized that she was using English to talk to me!!! And right away she said sorry and she switched to using Finnish again.

So, the next time I had to use English again, I had to literally take

a few seconds to switch

to my English brain before I said the numbers correctly in English. Then they all came out in English. Phew!!!

And I've started thinking more in Indonesian than in English these days - which is a shame actually 'coz it took time to really use English actively in my daily life. But anyway, what happens happens...another thing I realize is that

when I'm stressed out

and

I need to count quickly

and act quickly (like whenever I am a cashier), I find myself counting in Indonesian. Why is this weird? Because before I started learning Finnish, for years I had forced myself to count in English (even when counting in my head), but now I've resorted more to Indonesian than English.

Maybe one reason is 'coz Finnish has more similarities to Indonesian than English (and Facebook has helped me use Indonesian more often than before). After all, Finnish and Indonesian pronunciation are similar. Secondly, the usage of "hän" (in Finnish) or "dia" (in Indonesian language) as opposed to "he" and "she". Thirdly, Indonesian and Finnish use the same kind of statement to say "half past (what time)". So, instead of saying for example "half past six", we'd say "half (to) seven" both in Finnish and Indonesian.

What language is in my head when I'm writing my blog posts? English, of course. Well, just wanna let you know the kind of mix up going in my head these days when it comes to languages. If somebody has ever experienced something like this, please do let me know so that I know I'm not crazy ha ha ha...