I once had an interesting talk with a friend on the subject of
kissing
. She's a big fan of Korean drama series. She told me that she was watching one particular Korean drama series that really disturbed her. Why? Because in the series, the leading male character kissed the leading female character in such a way that was usually not
the "kissing norm"
in Asian drama series. You see, usually if there's a kissing scene, then it'll only involve lips and it's just a brief kiss, not a long one.
I told her that the funny thing is that, when we watched Hollywood movies for example and we saw a rather longish hot, passionate kissing scene (or even more than one), we wouldn't feel disturbed by it. She agreed with me and she also started to wonder why he he he...

Even though the art of lovemaking in any country and culture involves many many more "intimate details" than kissing, but still it's rather disturbing in Asia to see some Asians kissing each other "hotly" in movies or even in real life. It does sound funny, doesn't it?
But I guess that's what culture does to your mind
. Plus in Indonesia, the censorship committee will cut off any kissing scenes (or other "more intimate" scenes) from any movies. If I remember correctly, if a kissing scene is over 3 seconds long, then it'll be cut off.
During the old days, the bride and groom in Indonesia never kissed each other on their wedding day. These days many include "you may kiss the bride" line at church, even though some brides are still shy enough to ask the groom to kiss their forehead instead of their lips. And usually the MC in their wedding party also asks them to share a kiss in front of all the guests. And mind you, the kiss is usually very brief HE HE HE HE HE HE HE HE HE HE HE...
Psstttt...I also asked Arttu to make it VERY short prior to our wedding ceremony, you know? I just don't want to make the elders feel "disturbed" (or uneasy would be a better term, I guess) he he he he he...After all, we can always have plenty of kisses later on HA HA HA HA HA...
Well, speaking of kisses, I LOVEEEEEEEEEEEEEEEEEEEEEEEEEE 'em!!!! LOL LOL LOL!!!
May you have plenty of sincere, loving kisses in your lifetimeeeeeeeee...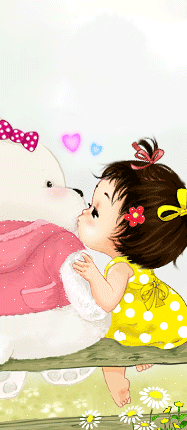 glitter-graphics.com