Putri tagged me to do this meme.




Rule:
Please write your favorite love song, and what's the story behind it? Please include your name and your URL blog.
Share this tag to your friends as much as you can.
Don't forget to include the answer of the person that gave you this tag before your answer.
My favorite song is "Endless Love". Because I sang this song as a surprise for my love on our engagement party. -

Nyumix
This is actually tough since there are SO MANY love songs that I love, but I think one of my VERY favourite of all is "My Valentine" by Martina McBride and Jim Brickman. What's the story behind it? Nothing much. It's just a lovely song that fits my feelings for my hubby. I had dreamed of a guy like him, but he was actually MUCH better than what I dreamed of he he he...

"All of my life I have been waiting for all you give to me...you've opened my eyes and shown me how to love unselfishly...I've dreamed of this a thousand times before...in my dreams I couldn't love you more...I will give you my heart until the end of time...

And even if the sun refused to shine, even if romance ran out of rhyme, you'd still my heart until the the end of time...'coz all I need is you, My Valentine..." - Amel


I'm not going to tag anyone now 'coz it seems everybody's busy he he he...but I'd love to share two video clips. The first one is of course "My Valentine" he he he...
Second song: an oldie but goodie. I grew up listening to Boney M.'s 1978 Christmas album (cassette) HA HA HA HA HA HA...Enjoy "Mary's Boy Child"!!!







Anyway, have a BLESSED Christmas, everybodyyyyy!!!!!!!!!!!!!!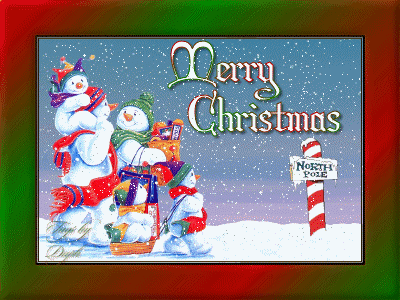 glitter-graphics.com